24/12/2017

NZ Tour Rounds 3&4 entry form and information documents:
NZ Tour 2017 – 18 WJSC Entry Form
Entries are due in by the 12th January in order to confirm numbers.
Sorry for the delay in getting these posted.
---
2017/18 NZ Tour Round 3 & 4
Onepoto Road, Titahi Bay, Porirua
Schedule
| | |
| --- | --- |
| Registration & Scrutineering: | Saturday: 7:30am – 9:00am |
| Riders Brief: | Saturday 9:00am |
| Look Laps: | Saturday 9:30am |
| Racing Starts: | Saturday 10:00am |
| | Sunday 10:00am |
Entries
Entry Forms and payment must be received prior to January 12th. There will be a $100.00 late fee for any entries or payment received after this. Entry Forms can either be completed online and emailed to maggie@wjsc.co.nz or be sent via post to:
Wellington Jet Sports Club
C/O: 12 Chanel Grove
Waterloo
Lower Hutt, 5011
Payment can either be sent to the address above or paid online to
WJSC, BNZ Porirua 02-0576-0177669-00
Please use your full name as a reference.
Food at Venue
There will be food and refreshments available for purchase on all days of racing.
Accommodation
Here are a few options of accommodation; all within 10 minutes drive to the race venue.
Aotea Lodge http://www.aotealodge.co.nz/
Belmont Lodge – caters to families and groups http://www.belmontmotorlodge.co.nz/
Mana Motel http://www.manamotel.co.nz/
Amethyst Court http://www.amethystcourt.co.nz/
Spinnaker Motel http://www.spinnakermotel.co.nz/
Location
Onepoto Clubrooms are located about 5 minutes drive from central Porirua. Below is a map from Google Maps to help you find it.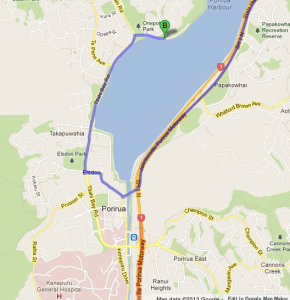 Prize Giving
The prize giving will be held at the clubrooms after the event.
For any queries or additional information please free feel to contact either Craig Boyd on 021 766 264 Maggie Lampe on 022 465 2673 or email maggie@wjsc.co.nz