26/09/2017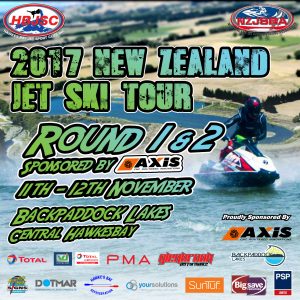 The Hawke's Bay Jet Sports Club is proud to host Rounds 1 and 2 of the New Zealand PWC Summer Tour at Back Paddock Lakes, 314 Speedy Road, Takapau, Central Hawke's Bay.
Four rounds of racing are planned for each day, and as the course will be laid the previous day we will be all ready to go on race day, so please make sure you are on time.
This is an awesome venue, a clean lake, with great public viewing all around the lake and heaps of parking. So tell your friends to come along, either with or without a ski as it will be a great weekend out, weather permitting.
DIRECTIONS TO THE LAKE
Access to the venue is easy. Directions from Waipukurau
Head west on Ruataniwha St toward Northumberland Street. Travel 400 m
Turn left onto State Highway 2. Travel 10.2 km
Turn right onto Speedy Road. Travel 1.4 km
Turn left to stay on Speedy Road. Travel 1.7 km
Destination is on the right.
Google Maps link – https://goo.gl/maps/o6nw7HeFew22
Accomodation is available in nearby Waipawa, Waipukurau and Dannevirke, check out booking.co.nz
NO DOGS ALLOWED
HBJSC are putting on a BBQ dinner Saturday Night – no charge
There are supermarkets, cafes, takeaways 10 – 15 minutes away in Waipukurau and Dannevirke
This is a privately owned lake that we only have closure for from 8 am till 5pm Sunday, lake time for tuning, testing / repairs etc will be available on Saturday at the completion of racing with approval from the race director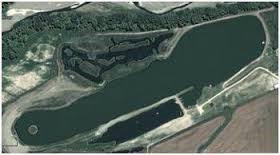 The pre-race schedule for the day is as follows:
| | |
| --- | --- |
| 7.00am – 9.00am | Registration and Scrutineering/ Safety Checks |
| 9.30am | Riders Briefing – attendance is compulsory |
| 10.00am | Course Induction |
| 10.30am | Racing Starts |
SCRUTINEERING
Your vessel and race gear will be scrutineered to ensure they comply with the NZJSBA racing criteria. You will personally need to wear a compliant helmet and life vest (PDF 3 or 5) and have a tow loop attached to your ski. Pole Ski riders must have a compliant back brace. It is also recommended that riders wear footwear, wetsuit, goggles and gloves, and have with them, a fire extinguisher. All skis will also be scrutineered for safety prior to racing.
REGISTRATION
Please send your fully-completed entry form to hbjsc@xtra.co.nz Payment on the day will be accepted, cash or cheque.
If you have any questions or queries about the event please don't hesitate to contact Lara on 0223619324 or Phil on 032996093 or email.
RACE LICENSE
All competitors must hold a current NZJSBA Race License. A Full season NZJSBA Race License costs $140.00.
If you are applying for a license for the first time please bring along photo ID for officials to view.
If you are under 18yrs, your license must be signed by a parent or guardian.
SKI NUMBER
All skis must clearly display a large, legible race number on both sides of their ski. To find what race numbers are available please contact Russell Thorogood at info@nzjetsport.org.nz. New riders, please do not use single digit numbers or numbers 11 or 111.
FIRST TIME RIDERS
First Time Riders are only eligible to enter Novice Class and must present a stock ski that complies with the NZJSBA Stock Rules. Maritime rules state that all riders of PWC must be over the age of 15 years unless an exemption has been granted. Call your local club for more details.
Prizegiving will be on site at the conclusion of each race day
We look forward to seeing you at the event. Tell your friends and help us by advertising it on your Facebook page.
Regards,
Hawke's Bay Jet Sports Club