Yamaha NZ Festival of Freeride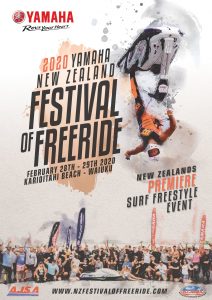 Start frothing cause we're all go for 2020!! The 8th Edition of the Yamaha NZ Festival of Freeride is back at Karioitahi Beach, Waiuku on Friday 28th and Saturday 29th of February 2020. Get yourself sorted, book that time off, and get stuck into it. An event not to be missed!!
Official Press Release from our title sponsors Yamaha Marine New Zealand:
The Yamaha New Zealand Festival of Freeride is back! Now running in its eighth year, the 2020 edition of the Yamaha Festival of Freeride will be held once again at Karioitahi Beach, Waiuku – February 28-29.
The event has grown enormously in its eight year history, with 40 riders in its first year, to 70 riders in 2019, event organiser Richard Webb expects that number to grow in 2020.
"The event has grown and grown every year with popularity and we're expecting that number to grow again for the 2020 event," says Webb.
"The Yamaha NZ Festival of Freeride event is now the biggest event of its kind in the southern hemisphere and showcases some of the best riders down-under. A spectacle well worth coming to see and a testament to the growth of the sport here in NZ."
Yamaha NZ Festival of Freeride is where personal watercraft riding meets freestyle motocross with riders performing surfing maneuvers and tricks jumping off waves – a sport that is exciting for both riders and spectators.
Run over two days the event see's a number of sessions and competitions take place such as 'The Biggest Air competition' which sees riders try and do the highest jump off a wave, the 'Sickest Trick' sees riders attempting the most technical tricks and the 'Cherry Popper' for all those riders that are trying a backflip for the first time.
The event is open to riders of all abilities, with novice beginners able to gain expert tuition from seasoned professionals.
"We're thrilled to be partnering with the Yamaha NZ Festival of Freeride for yet another year. In conjunction with our dealer partner, Rogers Boat Shop, we've been supporting it since the innaugural event and its been great to see the event go from strength to strength," says Yamaha Marine Marketing Manager, Pete Dick.
Having just launched its 2020 WaveRunner range, Yamaha will look to have their full range on display including the popular stand up model – the Superjet.