16/09/2017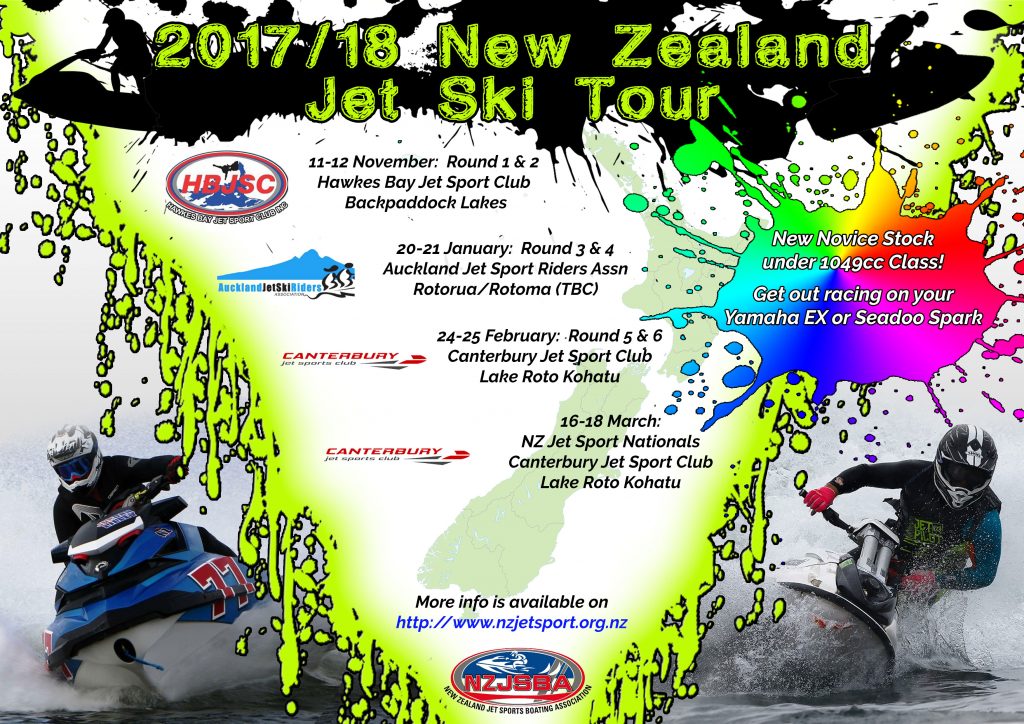 2017 / 18 New Zealand Tour
Round 1 & 2
11-12 November – Hawkes Bay Jet Sports Club – Back Paddocks
Round 3 & 4
20-21 January – Auckland Jet Sport Riders Assn – Rotorua / Rotoma (tbc)
Round 5 & 6
24-25 February – Canterbury Jet Sport Club – Lake Roto kohatu
New Zealand Jet Sport Nationals
16- 18 March – Canterbury Jet Sport Club – Lake Roto kohatu
Class Structure
Ski
Junior Development Ski Lites
Nov Ski Lites
Am Ski Lites
E/E Ski Lites
E/E Ski GP
Ski Modified (inclds 4 Stroke SX-R)
Vets Ski GP (inclds Showroom Stock)
Runabout
Nov Runabout Showroom Stock
EE Runabout Showroom Stock (inclds 2016 NZJSBA Stock)
EE Runabout GP
EE Naturally Aspirated Runabout (includes Sport)
Am/Nov Runabout four Stroke Under 1049cc (Nat Asp) Showroom Stock
Vets Runabout GP (inclds Showroom Stock)
Nov= Novice Am= Amateur EE= Expert/Elite Vets= Veterans
Showroom stock is being integrated into the 2017/8 season to bring a modern cost effective approach to stock class racing in NZ. This closely aligns with international trends allowing the NZJSBA to promote a competitive stock class racing platform. Provision for 2016 NZJSBA stock class will be made for one year by integrating this with some Showroom stock classes (separate trophies may be awarded depending on numbers competing).
Additional classes may be considered if minimum of 5 entries are reached.
Application should be made to hosting club prior to event with proof of entries.
---
Introduction
New Zealand Jet Sports Tour is a 6 round tour, hosted over 3 events. Points will be accumulated from each round and overall placings will be awarded at the conclusion of round 6.
In the interest of competitive racing, where possible, classes may be combined to ensure an adequate number of craft in races.
To foster the future of the tour and sport, if a rider makes the effort to attend the event and races, points will be awarded in their entered class regardless of the number of craft in the class.
Rules
The NZ Tour will follow the 2016 IJSBA Rule Book and any supplementary rules as implemented by the NZJSBA.
If you are unclear about any rule, it is the responsibility of the rider to seek clarification from the appointed NZJSBA technical Director and/or NZJSBA executive committee.
All riders are required to familiarise themselves with said rules before competing.
All Junior/novice or 1st time riders should make race organisers aware of their intentions to race prior to the event and may be required to undergo pre race training with an appointed NZJSBA representative.
A copy of the Rule book and supplementary rules are available for download in the Info & Rules section.
Entry Fees
The entry fee for the NZ tour will be payable to the hosting club of each event. The fee is set at $30 per class payable over and above the hosting clubs local round fee.
NZJSBA Code of Conduct
All competitors must adhere and abide by the NZJSBA code of conduct at all times. This also applies to pit crew and supporters at each event.
A copy of the code of conduct is available for download in the Info & Rules section.
Licenses
To be eligible to race in the NZ tour, competitors MUST comply with NZJSBA licensing regulations. To be awarded overall points for the NZ Tour you must hold a full NZJSBA license (no day licenses allowed). A rider may be able to compete at the local club event on a day license and not generate points towards the tour.
Proposed Racing Schedule
This may vary with each event locations requirements… competitors should seek clarification on each tour event entry form for exact requirements;
8am – 9am Registration and Scrutineering
9.30am Riders briefing
10.00 am Course induction
10.30am Racing commences
Each NZ Tour will consist of 4 rounds of racing per day.
Points Structure
The tour will run the moto scoring system for rounds per day and individual days results;
1st – 60
2nd – 53
3rd – 48
…then 43, 39, 36, 33, 30, 27, 24, 22, 20, 18, 16, 14, 12, 10, 8, 6, 4.
The tour will consist of 6 individual days of racing.
A rider is given points for each round of racing (max 4 per day).
The points for each of the rounds are totalled at the conclusion of the day to find the overall results. Those overall placings are assigned points towards the tour based upon the above mentioned points schedule (i.e. 1st place for the day =60pts, 2nd place 53pts… etc). Note:Overall results will exclude those not entered in the NZ Tour. i.e. if the 2nd place rider for the day has not entered the NZ Tour (via entry fee payment) then the 3rd place rider will receive 2nd place points (53), 4th place will receive 3rd place points (48), and so on.
In the event of an overall tie in points for an individual day, the winner will be decided using the methods detailed in the IJSBA Rulebook, ie greatest number of 1st, 2nd, 3rd. if still tied, rider with highest placing in last race will take the days honours.
At the end of the season each race day's overall points are tallied to award NZ Tour championship. (Maximum points awarded if a rider has won each individual day's event 6 days @ 60pts = 360).
If the results for the overall tour is tied and methods detailed in IJSBA rule book still result in a tie, individual race results for each day will be tallied. If this results in a tiebreaker the rider with the highest place in the last race will take overall honours.
Trophies and Prizes
Overall tour trophies will be awarded at the end of tour (round 6), prizes may be awarded at the end of each event (at the discretion of the hosting club)