07/01/2016
2016 NORTH ISLAND CHAMPS AND 2015/2016 NORTH ISLAND SUMMER TOUR ROUNDS 3&4
ONEPOTO, TITAHI BAY– 23/24 JANUARY 2016
Download Nth Island Champs Info = 2016-NI-Champs
Download Round 3 & 4 Info =  Info 2015-16 RD3-4 NI Champs
Download Entry Form =  Summer Round Entry Form 2015-16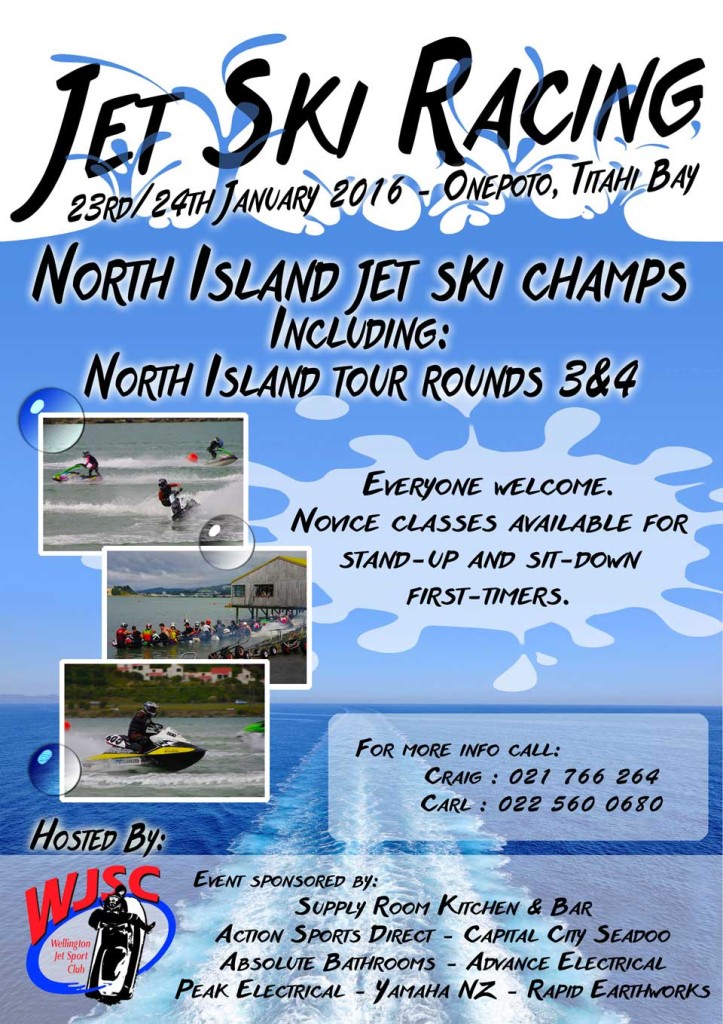 The Wellington Jet Sport Club are proud to be hosting the 2016 North Island Champs simultaneously with the 3rd and 4th rounds of the North Island tour at Onepoto, Titahi Bay over the weekend of the 23rd/24th January 2016.
The daily schedule for both days is as follows:
| | |
| --- | --- |
| 7:30am – 8:30am | Registration and Scrutineering |
| 9.00-9.30am | Riders Briefing |
| 9.30am | Look Laps |
| 10.00am | Racing Starts |
Below are two maps, one showing the Race venue and the other showing The Supply Room where we will be holding our prize giving.  Circled on these maps in yellow are the motels in the area, these are listed beside the maps with their contact details.
Prize giving location:
The Supply Room
105 Mana Esplanade, Paremata
web: http://supplyroom.co.nz/
Spinnaker Motel Plimmerton
Corner of Grays Road and State Highway 1
Plimmerton
Freephone: 0800 229 592
Phone: +64 4 233 8171
email:  info@spinnakermotel.co.nz
web: http://www.spinnakermotel.co.nz
AAA Mana Motel
41 Mana Esplanade, Mana, Porirua, Wellington, New Zealand
Reservations: 0800 866 262
email: stay@manamotel.co.nz
web: http://www.manamotel.co.nz/
Race Location:
Onepoto Road, Titahi Bay, Porirua.
Aotea Lodge
Whitford Brown Avenue
Papakowhai
Reservations: 0800 462 6832
Phone: 04 237 4257
email: info@aotealodge.co.nz
web: http://www.aotealodge.co.nz
5 Diamond Belmont Motor Lodge
1 Mungavin Ave
Porirua
Reservations: 0800 462 356
Phone: 04 238 2129
email: belmontlodge@xtra.co.nz
web: http://www.belmontmotorlodge.co.nz
Amethyst Court Motel
5 Titahi Bay Rd
Porirua City
Reservations: 0800 829 829
Phone: 04 237 6989
email: info@amethystcourt.co.nz
web: http://www.amethystcourt.co.nz
As they are the main sponsor for this event we ask that if you do wish to get a meal during your stay that you consider going to The Supply Room, they have a full range of menus to suit and it would be great to support them as they do us.
Full menus are available on their website: http://supplyroom.co.nz/
Our sponsors for this event are:
The Supply Room
Action Sports Direct
Capital City SeadooAbsolute Bathrooms
Advance ElectricalPeak Electrical
Yamaha NZ
Rapid Earthworks
At the Venue:
You are welcome to put up a pop-up tent at the venue, however the surface is mostly tarmac road so you may need weights as you will be unable to put any pegs into the ground. You will require a beach trolley for your watercraft.
For any further information:
Phone:
Carl: 022 560 0680
or
Craig: 027 247 8387